Columbadi/10 Flora
Today is Flori-Maia, the Feast of Flowers. This is one of the (many) things I love about our religion….that we have a feast day which expresses appreciation to Dea for her bounteous gift of varied-hued flowers.
Though not mandatory, Madria Sophia has provided us with inspiring readings for this day in our previous post, Floralia, Feast of Flowers for those who would like to celebrate the RoS in Thanksgiving for flowers.
Ghost Orchid
Amazingly, there are over 400,000 known flower species in the entire world! The Ghost Orchid is said to be one of the rarest. There are about 2,000 of them which grow in South Florida. They may also be found in Cuba and the Bahamas.  These  elusive flowers only bloom about one or two weeks out of the year. Poachers are one of the problems which endanger this delicate plant, but thanks to scientists in Florida, they are successfully restoring these 'frog-like' plants to the wild. http://hort.ifas.ufl.edu/ghost-orchid-facts/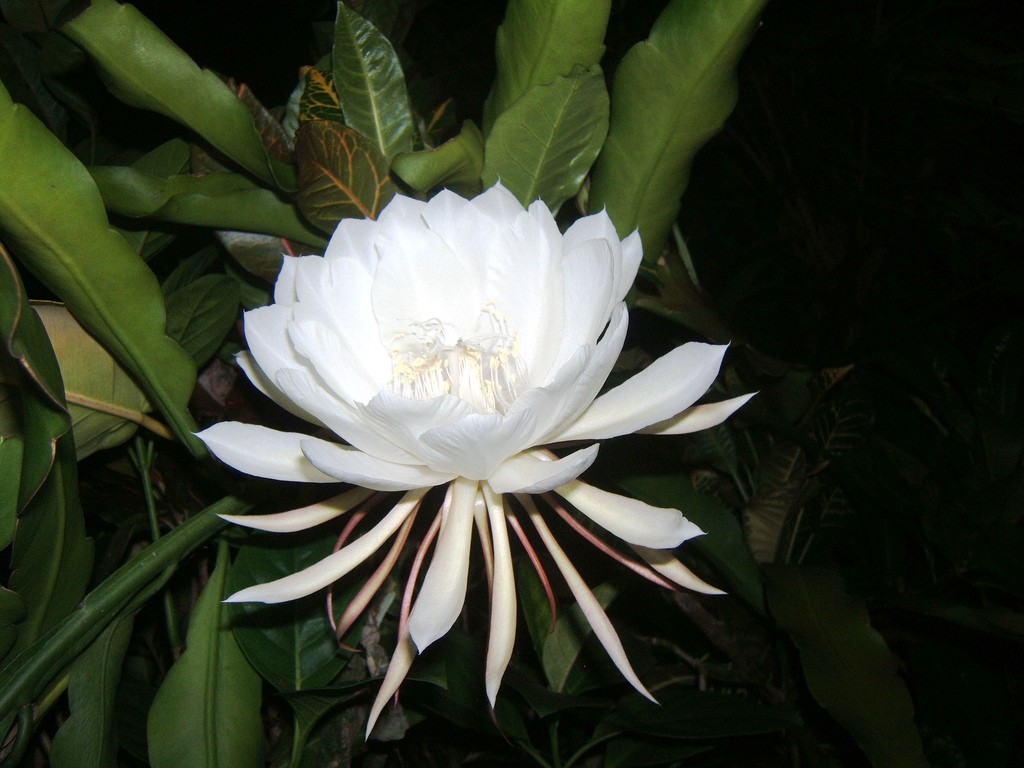 The Kadupul flower of Sri Lanka is so rare, it is literally priceless. It blooms only at night, surviving just a few short hours. They are known for their exotic scent.
Even the most common of plants can fill our memories with those we love or remind us of happy times. The humble pansy has always been one of my favorites because my grandmother's garden was never without them raising their cheerful faces to the sky.
One of the best ways to express our appreciation for flowers is to learn about endangered wildflowers and plants. There are currently almost 10,000 species on the endangered list. Other studies show that 22 % of known plant species are endangered. Plants are the basis of all life on Earth. And everything that we need for our health….all medicines that we need are provided by Dea here on Earth, especially in the Amazon rain forest which continues to be clear cut. In fact, since 1978, almost 300,000 square miles of rain forest have been destroyed.
For info on the rain forest: https://rainforests.mongabay.com/amazon/amazon_destruction.html.
For info on endangered plant species: https://planetsave.com/2011/05/20/endangered-plants-list/
How can you help in your area. Here is an example from my own state of Massachusetts: https://www.mass.gov/rare-plant-conservation.
And to help protect all endangered species in your area: http://www.endangered.org/10-easy-things-you-can-do-to-save-endangered-species/
Each flower, as with everything in the Cosmos, has it's own vibration. And each are associated with certain things. Here are two sources, one from the Victorian era and one from the modern era, on the secret language of flowers and their magick: https://magic-spells-and-potions.com/files/flower-language-dictionary.htm and https://tesswhitehurst.com/the-magical-and-metaphysical-properties-of-flowers/.
So, for those of us who will be offering the RoS in appreciation for the bountiful gift of flowers which grace our amazing planet, let us also say a prayer that we may all learn how to protect those species that are in danger of becoming extinct.
artwork by Sulamith Wulfing: http://artpassions.net/wulfing/wulfing.html
"And as She walked, the children of the Earth threw blossoms before Her, and though Her feet rested on them, yet, they were not bruised. 2 And She reigned over all the Earth, bringing all Nature back to life and all life back to the true law and rhythm of Nature.  And the whole world knew Her as its Princess." The Mythos of the Divine Maid, Chapter VII, verses 1-2 (SMR edition).
ArchMadria Pamela Lanides